Since I live in the boondoks and crave for coffee every single day, I wonder if these actually taste like what I can order from a barista in Starbucks.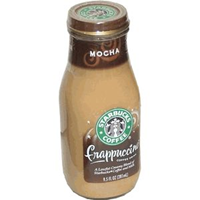 Mocha
Mmmmocha. The word itself is music to your mouth. But how does it taste, you ask? In a word… Magnificent. (And we're not just saying that.) How else would our luscious, lowfat blend of Starbucks® coffee, real milk and rich, chocolaty Mocha taste? We'll even let you in on a little secret: it only gets better when you chill it or pour it over ice. When you have to have your chocolate, make it Mocha. Every time.
Mocha Lite
What do you get when you mix the one-of-a-kind taste of Starbucks® coffee, real milk and luscious, chocolaty Mocha? Bottled euphoria. What don't you get? One third of the calories you'll find in Mocha bottled Frappuccino®. And though this creamy treat is even lighter than our lowfat original, the great taste of Mocha still shines through. What's not to love about going Lite?
I hope the Lite version is really smaller in calories since whipped cream is alone about 400 calories already.
The pros
Low in fat.
Good mixture of coffee and cream.
Not as bitter as the Doubleshot Expresso and Cream.
Taste better than average.
The cons
Energy does not last long.
The bitter aftertaste may bother some people.
Has no dietary fiber, vitamin C and A.
Starbucks Frappuccino Nutrition Facts (serving size – 9.5 fl. oz.)
Calories: 200
Total Fat: 3 g – 5%
Cholesterol: 15 mg – 5%
Sodium: 100 mg – 4%
Total Carbs: 37g – 12%
Sugars: 32g
Protein: 6g
Calcium: 20%
Percent daily values are based on a 2,000 calorie diet – Servings per container:1
Technorati Tags: Starbucks Frappuccino Coffee Drink,Frappuccinos on the Go