I still dream of owning my dream white kitchen similar to the one you see below. It may take several years before I can make it come true, but that is fine with me. It might take that long to make me like cooking and being in the kitchen as well.
But who knows? If I had a kitchen as nice as this, I might just make it my second bedroom. I love the chartreuse wall tiles and the kitchen countertop table. I envision my kids heading straight for this table once they arrive from school to tell me about their day while eating some brownies I've baked! (I think I will like baking better)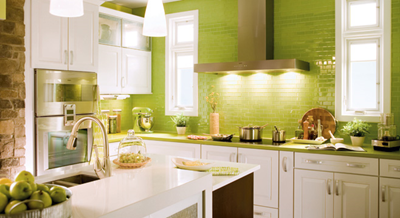 As it is, our kitchen is far from the picture above but I am taking tiny steps to make sure we have complete kitchen equipment. So far, we haven't really availed of my husband's available payday loans except for big kitchen equipment like the refrigerator and stove. Our Whirlpool microwave oven was a gift from our wedding (we love it).
I would like to buy a toaster, blender, a good (investment) coffee maker and fine dinnerware soon.
Here is a list of basic equipment you need to buy for your kitchen (for wives like me who don't know a single thing!:
Knives
made of high carbon stainless steel
3 or 4" paring knife
a serrated knife
8 or 10" chef's knife
Measuring Cups and Spoons
Various sizes, in metal and plastic
Get at least two sets of each, so you're not continually washing them as you cook
glass measuring cups with spout, for liquids
Spoons
slotted spoon
wooden spoons
sturdy metal spoons
Soup ladle
Mixing Utensils
hand held electric mixer
Wire whisks in different sizes
eggbeater
Spatulas
straight spatulas
angled handle spatulas
rubber scraper spatulas
Sieves and Colanders
nested varying size sieves, in stainless steel (work as flour sifters too)
steel or plastic colander
Pots and Pans
1, 2, 4, and 8-quart saucepans with covers
12" skillet with covers
6 or 8" nonstick skillet
roasting pan
two 9" round cake pans
9" square cake pan
9"x13" baking pan
9"x5" loaf pan
9" pie pan
12 cup muffin tin
cooling racks
two cookie sheets
Miscellaneous
swivel-bladed vegetable peeler
grater with various sized holes
rolling pin
can opener
kitchen timer
kitchen shears
corkscrew