I love Pyrex cookware. I practically grew up with it as my Mom used it in the kitchen a lot. Now that I have a family of my own I am starting to collect good items for my kitchen and Pyrex is one of them. I recently bought some during last year's Black Friday Sale. Along with my Corelle plates I would have nice setting for my table already. Now if only I know how to cook
Here are the ones on my wishlist. I don't think I would be needing to get a payday loan for this, I would just wait for another Black Friday sale.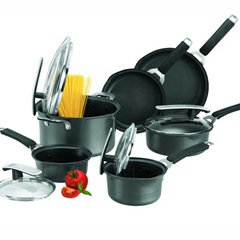 Pyrexâ"¢ Aluminum Non-Stick 10-pc Cookware Set – $199.99
The durable coating on the PYREX® Non-Stick keeps your savory sauces from clinging to the pan. With a built in spoon rest, a lid handle that doubles as a lid stand, pour spouts for easy liquid straining and interior measure marks for quick measuring, this is a non-stick you'll stick with.
Pyrex® 6-pc Bake, Serve 'N Store Set $15.99
The PYREX® 6-pc Bake-Serve 'N Store set with glass and plastic lids may be the most versatile item in your kitchen—and out of it. The glass lid is great for baking, reheating and serving, while the plastic lid is perfect for fridge and freezer storage or taking food on the go. One dish, two lids, and so many uses.