Make-up and perfume for women are what are wine and cigars (or cars and guns!) to men. It simply just appeals to majority of women and we have the tendency to hoard them all the time.
Women have always been more conscious of their appearance, because that is what society has dictated and taught us from the beginning. That is why the make-up industry is flourishing all year long! I personally prefer Clinique makeup as they are the only ones that are compatible with my skin. Believe me, I have tried most of them. Estee lauder makeup I also like, particularly their eye make-up. In fact, I use their eye palette for my everyday look. Clinique products invade my bathroom vanity table because I use them for my skin care too. I actually have the products for their 3-step process: Cleanse. Tone/Exfoliate . Moisturize. I use this: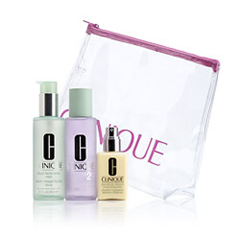 Clinique Liquid Facial Soap, 6.7 fl oz., Clarifying Lotion, 6.7 oz., Dramatically Different Moisturizing Lotion, 4.2 oz.
I actually do not personally go and buy them in the mall. I prefer to order my personal vanity kits online because it saves me time and money to do so. Besides I have memorized the brands I use. I only order from web sites that are secure and have authentic and original brands, like White's East Hampton.