I love coffee. I think I can blame consumerism and the trend of coffee shops (Starbucks anyone) for that. That and my three-year graveyard work stint. Anyhow, I'm hooked. Even if I work from home now, I still need to drink coffee (iced because of the heat these days) before I can work properly. I've heard of sad tales of employees needing to take payday advance loans to support their social activities, and that would be plain wrong. I take coffee everywhere (the last two years of working I take them from our free vendo machine!) and I do not need the label in a cup to drink one.
The husband is not a coffee drinker like me, but he indulges me every now and then. Recently I read an interesting article on how coffee can spark mornings, afternoons or evening in a marriage. Find out what the types of coffee mean: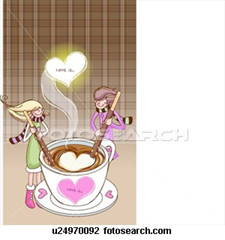 So what kind of coffee would you like today?
DECAF: Say "I love you" every day to your spouse. This sounds simple,
and it is—but it's great to hear each day.
HAZELNUT: Take your spouse out on a date. Actually call them and ask them out. Don't assume. Take care of the babysitting. Dress nicely. Show up at the front door, and head out together. Take your time.
100% COLUMBIAN: Talk. Talk about your day, the kids, work, what- ever. Just talk. Spend time listening to your spouse and sharing your thoughts and ideas along with theirs.
LIGHT ROAST: (Bet you thought this should be up higher on the list, actually this has more caffeine than dark roast). Change up your routine together. Sit at different places around the dinner table. Sleep on the other side of the bed. Small changes can provide big jolts to the system.
ESPRESSO: Keep your eyes open while kissing. Keep your eyes open during sex. Look at each other. See each other. Not just their body, their eyes, their spirit, their soul.
DOUBLE ESPRESSO: Eyes open orgasm. Connect with your eyes at the culmination of the encounter. Stay with each other after sex is over. Breathe together. Talk. Don't rush to move on to something else.
Coffee is a great addition to a morning, afternoon, or evening.