For those who are after quick weight loss, you might want to try this. I saw this from the blog of Chuvaness and would like to repost the information after I did my own research: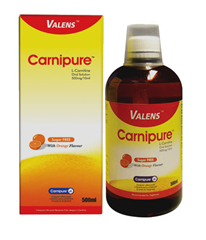 CarniPure is a liquid diet product brought to you by BodyTech and it's also found under the name CarniPure L-Carnitine. Websites like Amazon.com offer this supplement formula for $26.99; however, it doesn't appear on the official BodyTech website at this time. This supplement is taken with breakfast and dinner and can additionally be taken before exercising (one tablespoon at a time). The intended goal of CarniPure is to boost energy levels and assist with building lean muscle mass, while minimizing unwanted body fat. It may increase thermogenesis within the body.
Start by taking 10 ml. twice a day.
Go up to 15 ml. twice a day. Then 20 ml. twice a day.
Do not take more than 40 ml./day.
Besides Skinwise at SM Hypermart near Tiendesitas, you can also contact the supplier directly.
TWO SmartGuyz Corporation
2F G&L Building 199 Jose Abad Santos St.
Little Baguio, San Juan City (in front of Ristras Mexican Grill)
Tel: (02)726.9694
Mobile: (0917)624.6262
e-mail: info@twosmartguyz.com