This one is healthy! I hope this helps me lose stomach fat!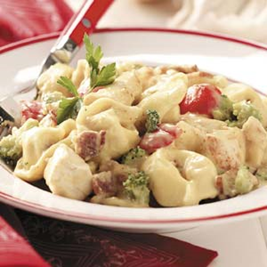 Ingredients
1-1/2 cups frozen cheese tortellini
1 boneless skinless chicken breast half (6 ounces), cut into 1-inch cubes
3 bacon strips, chopped
3 teaspoons minced garlic
1/8 teaspoon adobo seasoning
1/3 cup chopped onion
1/3 cup chopped sweet red pepper
1 can (10-3/4 ounces) condensed cream of chicken soup, undiluted
1/2 cup 2% milk
1/3 cup sour cream
2 tablespoons grated Parmesan cheese
1 cup frozen chopped broccoli, thawed and drained
Directions
Cook tortellini according to package directions. Meanwhile, in a large saucepan, cook and stir the chicken, bacon, garlic and adobo seasoning over medium heat until chicken is no longer pink. Add onion and red pepper; cook and stir until tender.
In a small bowl, combine the soup, milk, sour cream and Parmesan cheese; stir into chicken mixture. Bring to a boil. Reduce heat; simmer, uncovered, for 5-7 minutes.
Drain tortellini; add to chicken mixture. Stir in broccoli; heat through. Yield: 3 servings.
Technorati Tags: Alfredo Chicken Tortellini Recipe,Chicken Recipes,Quick dinner recipes