Sleep is essential to one's well being. And a disrupted sleep can wreak havoc in your work and day. Most of the time sleep interruptions come from external causes and can be easily remedied.
One of these causes might be bed bugs.  These are flat, reddish-brown, oval insects the size of an apple seed. They only feed on blood and become swollen and reddish after a blood meal.  They can survive without eating for a year though under cool conditions and prefer to be more active at night when people are asleep.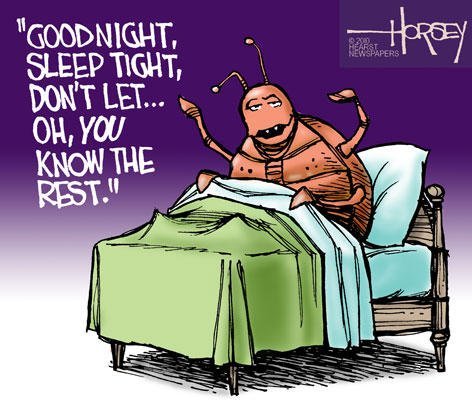 You would usually found them in cracks and crevices around homes and even in furniture – mattresses, sheets, electrical outlets, headboards and even picture frames. Hotels and hospitals are not spare because they can also go hopping from other personal belongings like briefcases and luggage.
How to Know if Your Home is Infested
One of the first signs of bed bug infestation is bed bug bits. You can see swollen, red and itchy spots appear on your body. You can also see brown spots in your mattresses or pillowcases. These are fecal matter or skin shedding bed bugs leave after growing.
How to Treat Your Home
When you have proven that there are bed bugs in your home, the first thing you need to do is wash all your linen and beddings at very high temperature. Anything that cannot be washed needs to go.
Vaccum every spot in your house. You can also spray alcohol on visible bed bugs.
You should also determine where you get bed bugs. If it's outside the house, make sure to wash your clothes or have it on a separate bin outside the room once you get home. (This is the primary reason why bringing of personal beddings in hotels and hospitals are strictly prohibited.
When it still is out of control and keeps coming back, hire a bed bug exterminator or a pest control company. They will be able to really look for where the bed bugs are hiding and apply the proper chemicals in a safe manner.
Before hiring a pest control company, make sure to follow these tips:
Ask for references of people you can check with that they have done services for in the past.
Check their full license.
Ask if they have insurance like public liability and professional indemnity. This is important especially if you are going to be treating establishments.
Ask about their standard procedures and guarantee.
Ask about any preparation before treatment that you should do.