While I was looking for door hangers I can order for our house, I suddenly craved for the homecooked meals my sisters-in-law cooked for us when we visited them a few weeks ago. I am not really a good cook, so I really enjoy their meals whenever we are there.
Here are some of their great dishes:
Spicy tahong – great appetizer, perfect pair with beer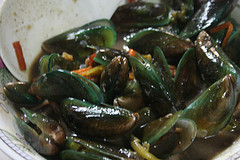 Beef kaldereta – this is a specialty of my sister-in-law's mom, truly one of a kind!