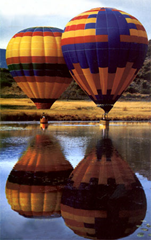 When you are in Arizona, there are a dozen things you need to try, see and there are even a lot of specialty foods you need to eat. Especially when you visit Arizona in the summer! This year, you can try and take them to Arizona's Red Rock Country in Sedona — recently named one of the top five destinations in the U.S. by TripAdvisor.
For outdoorsy families, you can try biking and hiking. The Grand Canyon is also just a few hours away. You can catch the Grand Canyon Railway.  The train takes out from Williams to the Grand Canyon and back.  The trip itself is filled with great scenery. Finally you need to try the Sedona hot air balloon rides offered by Sky High Balloons! The Sedona balloon ride they offer is one of a kind, with the "Splash 'n Dash" where the balloon descends momentarily on water for a gentle ride. This fantastic flight also offers low contour flying for spotting native wildlife and an ascent for just a hint of high altitude enjoyment.
Just remember the Sedona hot air balloon ride offered by Sky High Balloons fly the "T-Baskets", the best, and safest gondolas on the market! You are in good hands with their commercially licensed pilots authorized by the Federal Aviation Administration!